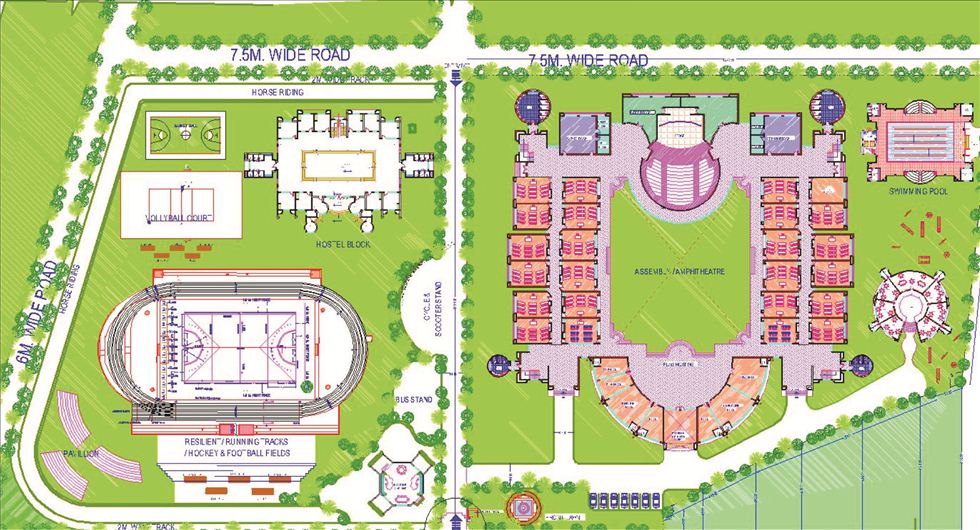 An aesthetically designed, comfortable and easy to approach administrative block greets all the visitors. A comfortable waiting area and approachable office and chairman's room, Principal's room and Vice Principal's room are ever ready to welcome all visitors and solve their problems.

Kinder Garten - Well equipped kinder garten section for formation of all cognitive skills of little one's like fun-workshop for tiny tots.

Activity Rooms - Child's paradise with educational, toys, fun games, puzzles, dollhouse, T.V Music etc. All toys are made of non toxic material.

Kinder garten Multi–media - Concrete learning is being provided with the help of audio visual aids.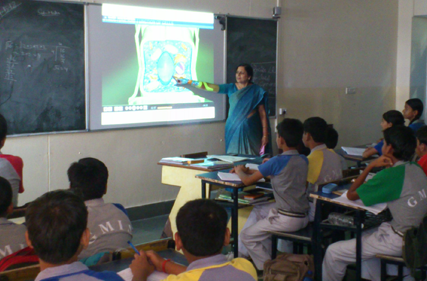 For making teaching in class rooms more effective the school has equipped all its class rooms with the digital support( white board, projector and supporting electronic system).
While teaching, the teachers explain the difficult things of the chapter through animation shown on the class-room white boards.These way concepts are quite clear and more understandable for the students.
All class rooms are brightly lit, well decorated, very spacious, digital interactive, fitted with "Teach Next" multimedia learning solution to make teaching learning easy, interesting and effective.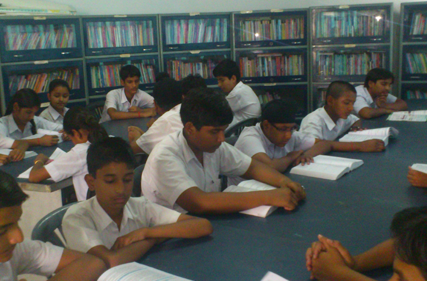 The Learning Zone of the school, is well equipped with more than 25000 books for the students to develop in themselves self reading habits.
Language Lab
It is specially designed for English language. As English is a foreign language so, it is necessary that children learnit in an easy manner. Language lab imparts learning through play-way method. It is graphically designed to sustain interest level. It teaches functional use of Englishwith stress on learning of listening (L), speaking (S), reading (R) and writing (W) skills.

Science Lab
Our laboratories, halls are well equipped with all the equipments, instruments, reagents, chemicals etc required to carry out all the prescribed experiments and tests. Practical's promote hands on learning for promoting highest form of learning.
It also helps students to remember concept better when they perform the task successfully and they also feel accomplished.

Computer Lab
Separate computer lab for junior and seniors, latest computer in sufficient number, so that each child gets an individual PC during practical periods.

Maths Lab
Math's is not subject that has to be memorized. According to CBSE math's lab has been established for developing higher order thinking skills in students. The hands on learning of kids are targeted towards stimulating young minds. It generates mathematical and geometrical concepts.

S.St Lab
It is a unique feature of GMIS. Here various instruments like Barometer, Thermometer, models related with solar system, day and night concept for change of seasons concept and anumber of other concepts are displayed. Here students can perform their activity themselves and learn the concepts easily.
Games
Chess, T.T , carom etc. indoor games are available in the spacious games room. For the tiny tots Ludo, snake, ladder, bowling etc. are also available.

Play Ground
School has a vast play ground and space for various outdoors games like football, cricket, volleyballs, basketball, kho-kho etc. We provide full scope for physical development. Athletic track for different types of races sports meet and practice.

Art/Craft
To develop aesthetic sense and for aesthetic expression a beautiful Art/Craft room is maintained. Where children go during club period, summer camp and activity period and show their creative skills.

Music
Well equipped vocal and instrumental music- rooms.

Dance
A huge dance room with mirrors.

Swings
Unlimited fun with the safe swings.

Kids Zone
Unlimited fun with the toy train and play station.

Swimming Pool
Swimming pool is children's favorite haunt during summers.
Wash Rooms
Hygienic, neat & clean washrooms separate for boys and girls with continuous water facility.

Water Purifier
Hygienic, neat & clean washrooms separate for boys and girls with continuous water facility.

Auditorium
An aesthetically planned multipurpose auditorium for recreational activities well equipped with art, sound and light- effects for conducting competition, assemblies and presentations is planned and would be available soon.

Parking
The school has enough space for parking the vehicles and buses.

Dispensary or Infirmary
We firmly believe in the saying "Health is Wealth". So to ensure this, every possible care is taken of the child during school hours and first-aid is provided as and when necessary.For this purpose the school has a well-equipped infirmary.
For care of sick children dispensary-in-charge is always on toes to attend to any emergency.

Gardens
To develop love for nature and to protect environment the school has developed greenery all round in its beautiful gardens. On the green day young ones themselves plant saplings & take care throughout the year.

Canteen
The school has a canteen that serves snacks which are hygienically prepared.
1. C.C.T.V:-
All class rooms, fields and corridors are fitted with C.C.T.V cameras which help in maintaining discipline & security of students

2. Guard :-
A heavy and tight security is maintained. No outsider can enter the school without following a proper channel. No visitor can contact the school students or teachers directly.